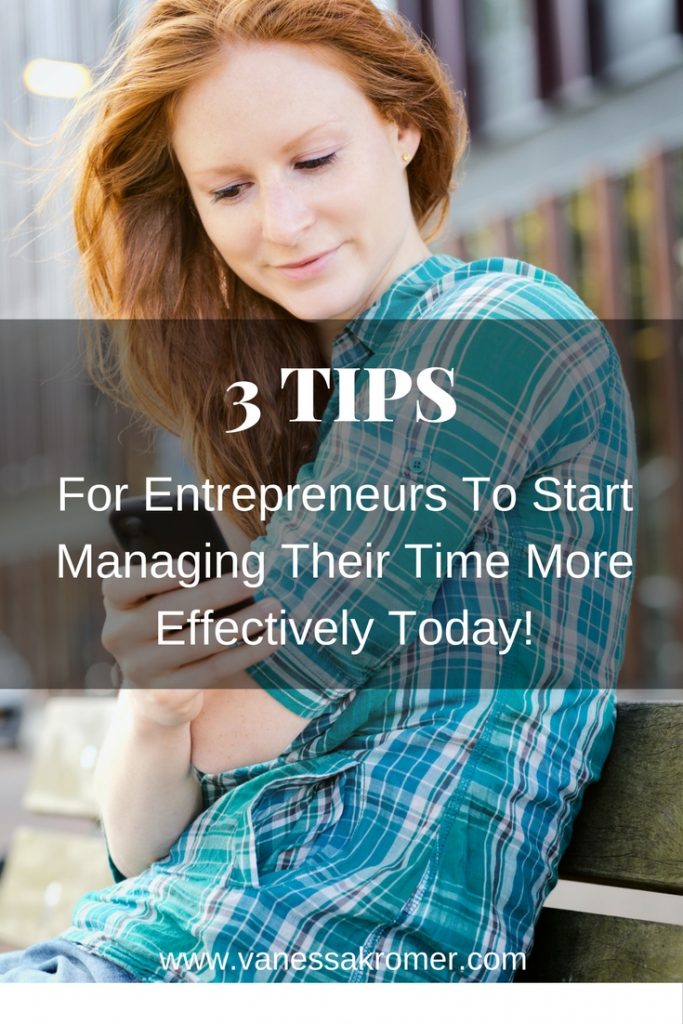 As a female entrepreneur myself, who works full time for two companies from home, I know how important time management can be. Without it, we will not succeed as business owners. The better your time is managed in your work life; the better your time will be spent in your home life as well and vice versa. Time management is the essence of our life. We need to take the time to prioritize correctly and with intention. My job as a female entrepreneur life and success coach finds me teaching and coaching on the subject of priority management almost every day. We need balance to succeed. Everything must be in harmony and flow in and out with ease. This can be done I promise you. It is not that hard. To manage our time, we need to make time to manage it. However, I have three easy tips to get you started today, even if you have never done this before.
1. Prioritize Your Life
Have you ever heard of the Stephen Covey Time Matrix? This, my friends, is a life saver. I was so stubborn when I was first taught about this method; I did not want to put in the time to fill mine out. It seemed like a waste of time to me then. A few weeks later I sat down and dug into mine, with much hesitation. My mind was blown. When I started to fill out my four quadrants, I could not believe my eyes. There was my ah ha moment. I got it now. This is why everyone uses the Stephen Covey Time Matrix because it works! Filling your time matrix out is very simple. Grab a piece of paper and draw a large square on the paper, or better yet just make a line down the middle and across the middle. Label the top two quadrants 1 and 2 and the bottom squares 3 and 4. Your top 2 squares are what is either important and urgent or important and not urgent.  On the bottom, we have some time wasters, Quadrant three is not necessary but urgent, and four is not important and not urgent.
You will see that some tasks are required while others may be wasting time. It is important that you think long and hard about your four quadrants. Also, don't forget to add in basic life tasks too. Showering, cooking, walking the dog, family time, etc. Once you have filled this out, you have a better look at what is needed in your life, what you need to make a top priority or not.
2. Google Calendar
Oh my goodness, I cannot say enough about Google Calendar. If you are not using this now, stop what you are doing and keep reading. If you do use Google Calendar, are you REALLY using it? There is an art to it, and it can mean everything to your business and life if you use it properly! The thing about Google Calendar is you have to get accustomed to using it and logging everything into it, daily. After I do my time matrix, I spend a lot of time plugging in all of my priorities into my calendar in Google. Again, the key is logging everything. Shower time, meals, bus stop pick-ups, work time, social media time, etc. Color code it and set reminders. Make sure to use the repeat option for weekly, daily or monthly blocks. For example, Monday through Friday during the school year I need to wake up at a particular time for the kids. So I set the time block and repeat M-F for the entire academic year. Same goes for drop offs, dance classes, meal time and more. Then make sure to block all of your work times and be specific. I like to schedule work blocks, social media for work blocks, social media for personal use, Netflix time, exercise time and so on.
The Google Calendar will also transfer to your cell phone, so you never leave home without your reliable, time-saving life saver. Plus Google will alert or stop you from double booking yourself, so that is a great back up if people are trying to book a call with you on your appointment setter but you already have plans during that time, Google will stop it from scheduling for example. You have the ability to curate your calendar to fit your needs. Set up alerts, time frames and more. It does all of the work for you, so you do not have to waste time trying to remember every little time and task you need to do in a day. It is your own private secretary.
3. IFTTT.com
This fun little website is fantastic! www.ifttt.com If This Then That. How clever? This is such a HUGE time saver for me and has been a genius for my business. You quickly set up what they call recipes in your account. You can scroll through hundreds of options on how to link one social media platform to another, set up posting routines and more. It even has TV and household applications to add if you want. I only use this for my business social media and the way I have mine set up is to use my Instagram post as the starter. Then from there I have a recipe for every platform to then re-post my Instagram post on all other platforms. I know there are a lot of websites that can do this sort of thing, but I find this one to be super easy and fun.  You can pause a recipe, edit it and remove it at any time and it is FREE. I highly recommend this time saver for your business.  Other programs IFTTT works with, literally hundreds of platform options. You could schedule your entire life with this site.
These three-time-saving tips have worked wonders for me and my business. I hope that you have enjoyed them as well. Pop on over to my post on ten things you can do right now to get organized. This may motivate even further to get it together and start managing your life and your time better. You can find my top 10 ways to get organized http://www.vanessakromer.com/10-things-you-can-do-right-now-to-get-organized/  I'd love to talk with you about time management, so if you have any questions, please contact me.
XO~ Vanessa