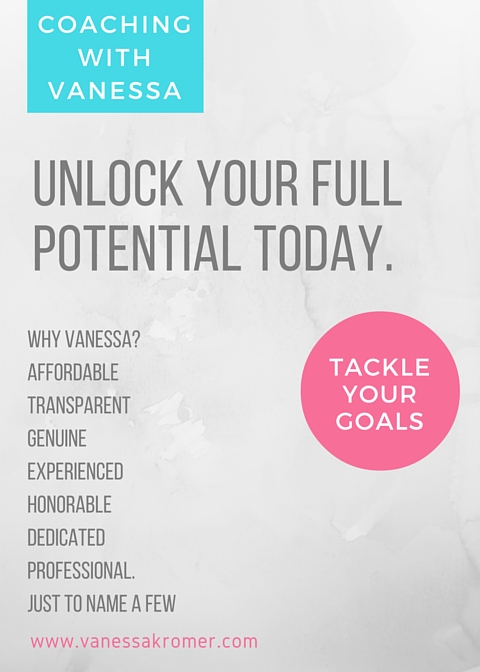 Hey There Ladies.
Guess what? I am super excited to be launching my LIVE shopping page over at https://vanessakromer.selz.com/ This new page will have everything you need to get started on becoming FABULOUS right away. My coaching packages are clickable, and you can pay right there, AND I have some downloads as well as e-books available for sale to download IMMEDIATELY. How awesome is that? And more is coming!
NOW THRU JULY 31st every package over $185 will be $50 off with the code at checkout. Let's get started TODAY! There is no better time than now to order up your custom package. Here are some of my FAV deals…..
FREE Goal Setting Workbook

Hop on my homepage to grab your free book! http://www.vanessakromer.com

Accountability Coaching

I am all YOURS. Let's tackle that goal and stick to your plan. Per month contracts are $200 per month with a two month minimum, OR weekly contracts are $75 per week with a two-week minimum. Materials, action plan, communication included

Small Business Start Up

Four weeks of custom goal setting and structuring for small business start-ups. Materials, calls, and communication included. The action plans with contact info for your next steps. Ideas, structure, and dreams come to life in 4 weeks. $575

Public Speaking

Virtual or In Person public speaker. Virtual $75 per hour, plus $40 booking fee. In person $90 per hour, $50 booking fee

Social Media/Virtual Assistant

Price varies.

15 Minute Consult

FREE 15-minute coaching call.

Style Sessions

Virtual or in person styling, accessorizing and closet re-vamp. Contact for details. Prices $49 and up

Fabulous You

Six-month coaching plan, every two weeks for 12 total sessions. Materials, 12 calls, and action plan included for $699

Sparkle and Shine

Specific goal planning calls. Five calls, each 30 minutes. $185 includes materials, five calls, and an action plan

She's So Savvy

Power hour call and YOU name the topic. Materials and 60-minute call. $99
What Are You Waiting For?
Pop on over now to see the new packages LIVE! And snag your $50 off today before it is too late.
XO~ Vanessa