One thing that I have learned from working in sales as well as leadership is that it is ALL about the relationship! I am NOT a salesperson, not at all. Actually, the very thought of it makes me nervous. Even though I am an outgoing person, I do not like to push things on people. I become shy in that moment. Even when the perfect opportunity arrises for me to SELL my product, whatever it may be, I go cold. UNLESS I sell myself first!! You know what I mean!!! I have always been the one to rave about an item that I bought or loved. The Magic Bullet….I love that thing and you will hear me go on and on about it if it comes up in conversation. I should sell Magic Bullets, I sound like a salesperson for the Magic Bullet. But I do not want to sell Magic Bullets, not one bit. But when I am excited or passionate about something, THAT IS WHAT SELLS!!!! So really it all comes down to YOU. Your personality, your relationships with others. Do they trust you? Do they value your input? Are you interesting? Do you intrigue them? Do they see you loving your job, loving what you do or sell? Do you value them? Do you show concern and form respect with them? This is the key! Your relationship with them plus YOUR passion for life and your business is where the potential comes in! BUT it must be real!!!! That is the magic! Genuine relationships where you show your passion for life is what forms SUCCESS no matter what your business is!
Relationship + Passion = Potential
I love this quote by the one and only Dale Carnegie himself…..I love his books and have taken many of his online classes.  They are spot on! Remember this as you go through your day. You will become a better friend, a better business woman, a better wife and mom! Do you agree that the relationship is the magic button for your success?? I'd love to hear your thoughts.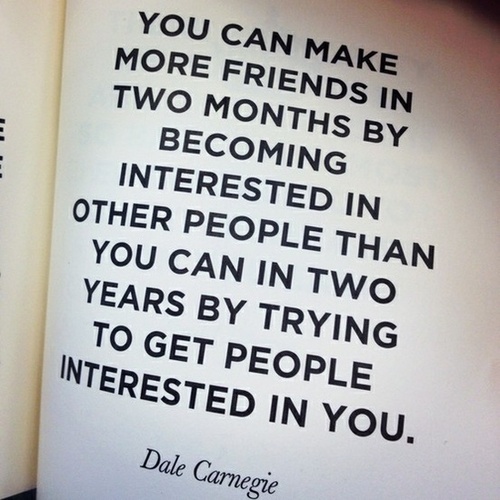 XO- Vanessa