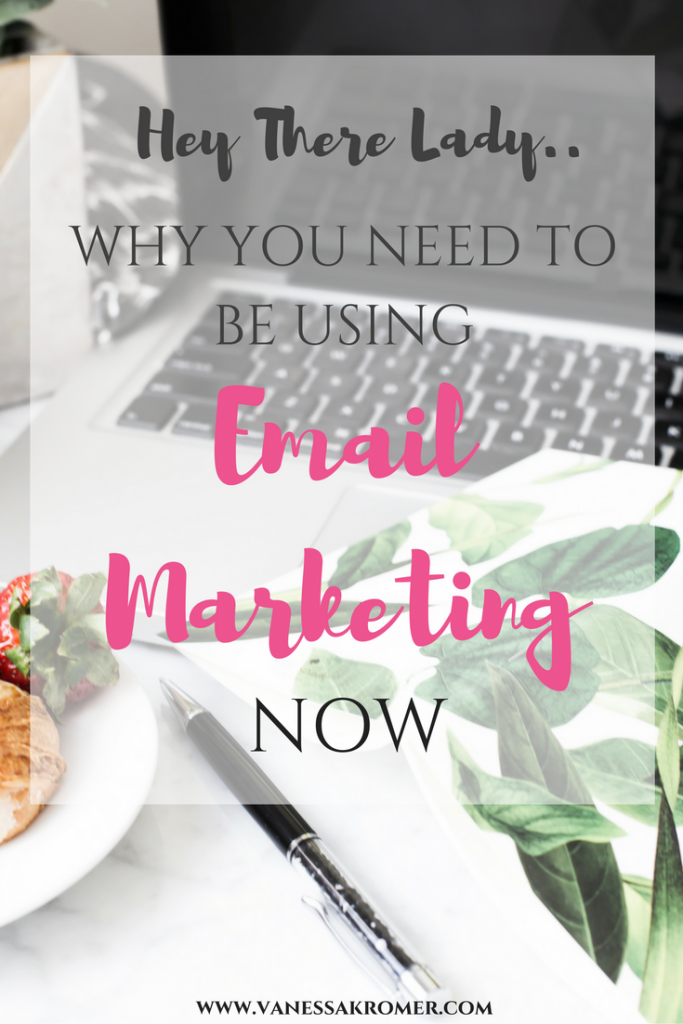 Two Words. Email Marketing~
Ladies, listen up. As a fellow female entrepreneur, I sure hope that you are using email marketing for your business. Are you? Email marketing is especially relevant for communication and relationship building with your clients and followers.
First of all, email marketing is the most valuable tool for your business. I get it; I was shocked too. Ladies…social media, blogging and website sharing cannot even compare to how important email marketing can be for your business. Besides, email sequencing or email marketing brings a personal tone to your relationship building. It is storytelling and a way to connect with your readers. But it also has a call to action.
So Are You Using Email Marketing?
So fess up…..are you utilizing email sequencing the way you should be? Let me break this down for you a little better. Here are a few reasons WHY email marketing can blow up your business and begin to cash in some sales for you.
-You are providing value to your readers
-There is little to no pressure to buy
-You can sneak in a call to action by using a PS and PPS, such as a free discovery call or a link to a pdf
-You are showing them that you care
-They have the option to unsubscribe
-The automation aspect saves you time
-You can segment your lists
-Easy way to keep track of your list
-Seamless onboarding of new readers
and so much more.
How About An Example?
The images below show a glimpse inside MY email marketing with ConvertKit, my all-time favorite website for all things email and opt-ins for my business. This is an example of my general email marketing schedule. Creating your email sequence is super easy, you can take a few hours and create 10-20 emails that can span over 2 or 3 months for example.
If you look at the left sidebar of the images, you can see the email topics and when they mail out. You can also note by my headings that most of the emails are providing value, which is so important in your business. You cannot push emails every day trying to sell your service or your product. That is what makes email marketing so personal and so efficient, the relationship and respect you will gain from it soon turn into profit and commitment.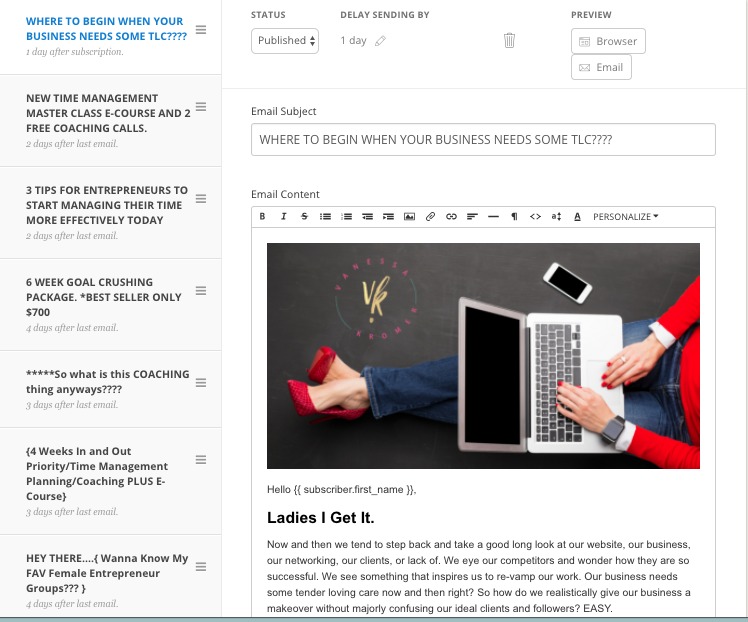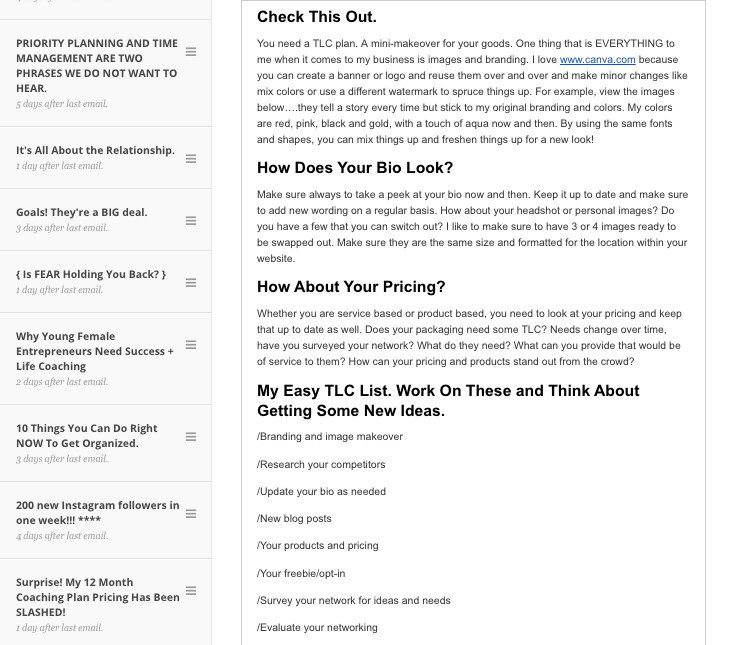 Some Items To Note.
Make sure in your emails you include several key factors, sort of as you would for a blog post. You want headings, links, bullet points and VALUE. As mentioned earlier, you can include a soft sell via a PS and a PPS at the end with a call to action.
So how do you choose an email marketing provider? There are several to choose from, and I have my favorites. For me, ConvertKit is the best for many reasons. It is priced right, it is super easy to use even for newbies, you can also create a lead page and opt-ins which are also critical to have and I just pretty much adore it. I have tried others such as MailChimp, Constant Contact, InfusionSoft and more and none of them have measured up to ConvertKit for me. For 1000 email subscribers I pay $29 per month, and it does everything I could need and more. I can not recommend it enough.
In Conclusion,
How do you feel now about email marketing? Still have concerns? Maybe you are nervous? Do you think your business would not benefit from an email list and marketing? You are wrong! Everyone needs to email sequencing, EVERYONE. Even if you only have five emails, you need email marketing. Trust me. Every single day it is one of the most significant factors I coach about to my clients, is to work on their email marketing. Period. No excuses.
If you feel confused or lost, how about a FREE call with me? I can show you how email marketing can and will serve your business personally. I would love to chat about that with YOU. You can schedule that here.
PS. What is your favorite email marketing platform and why? I cannot wait to hear.
XO~ Vanessa
***This email contains affiliate links and has been made aware to the readers of this blog post.